Trauma-informed Mental Health First Aid Diploma
In 2018 the health and wellness market in the UK was valued at 23 billion euros (Statista) and it is not showing signs of slowing down. Shifts in attitude surrounding mental wellness are at the forefront of personal and corporate cultures; we are embracing infusing well-being techniques into our daily life. 
Corporations and organisations are making staff wellness a top priority and working in partnership with well-being professionals to improve health and well-being in the workplace. 
Four out of five businesses have no staff trained in mental health first aid or work related stress. Over 11 million days are lost at work a year because of stress at work (HSE).
Employers have a legal duty to protect employees from stress at work and be able to ensure employees have a safe working environment while taking reasonable care to prevent personal injury (mental or physical) that may arise in the workplace.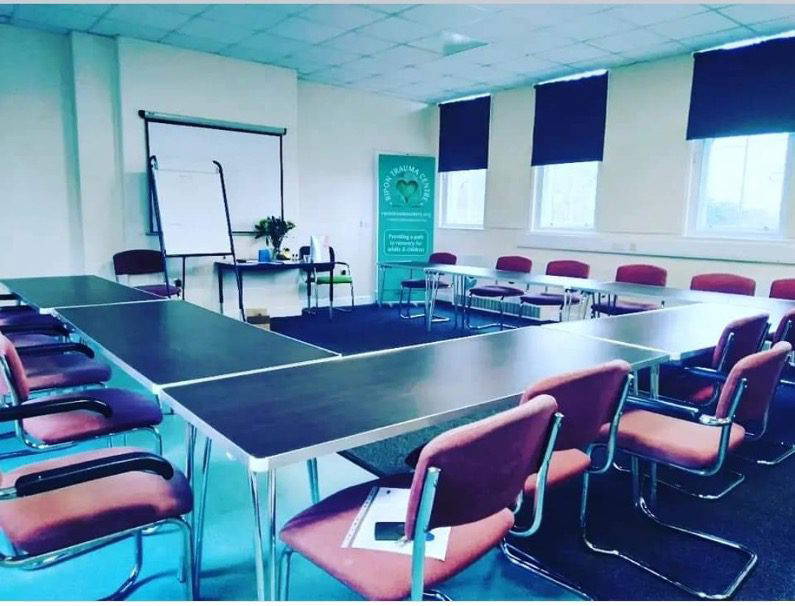 This accredited two day course covers:
What is mental health first aid and why is it important?
What is the role of a mental health first aider & Wellness Advocate?
The impact of mental health issues in the workplace
Stigma and discrimination
Promoting a positive work culture
Mental health issues – Anxiety, depression, obsessive compulsive disorders, eating disorders, alcohol and drug dependency, panic, fatigue, self-harm, and personality disorders
Spotting the triggers and signs of mental health issues
Suicide and preventing crisis
Raising awareness of the importance of well-being in the workplace
Providing support in the forms of listening, reassuring, responding, resources, signposting and treatment right through to recovery
Being a point of contact for staff and mental health first aid planning
Enhanced interpersonal skills – mindful listening, speaking, non-judgement and compassion
What is Trauma?
Trauma-informed practice
Prices are £225 per person including training notes, certification and book. 
Self-regulation EMDR Online Learning
Our founder Gail Donnan – Interdisciplinary Psychologist, registered psychotherapist, Trauma-focused EMDR therapist, mindfulness and meditation trainer and qualified teacher and assessor has designed a four part online learning journey.
The program consists of:
Slides and teaching recordings around education around the biology of anxiety & stress
Considering childhood adversity and it's role in anxiety
Attachment Theory
Understanding our nervous system
Communicating with our nervous system
Self-regulation & Self-soothing Techniques
Feelings of safety
Touching on Trauma
Home EMDR techniques
Prices
4  X slide presentations with teaching recording for personal use – £99 
4  X slide presentations with teaching recordings for one organisation £350
4 X slide presentations with teaching recordings for multiple sharing across organisations £750 
PLEASE NOTE NO EMDR PROCESSING WILL BE GIVEN WITHIN THE PROGRAM, THE INFORMATION IS FOR SELF-HELP ONLY. IF YOU FEEL PROCESSING IS NEEDED PRIVATE SESSIONS CAN BE BOOKED.
SLIDES AND RECORDINGS ARE COPYRIGHTED AND THE INTELLECTUAL PROPERTY OF THE ORGANISATION.
The course was well paced, extremely interesting to learn about how anxiety affects the whole person and about our nervous system. I will continue to put in to practice what I have learnt and use the resources too.  Having links and advice on other resources we can tap into on the internet, books etc was great I have really enjoyed this course thank you. 
The slides & diagrams were excellent. Learning about the biology behind anxiety and about the brain & nervous system definitely helps in understanding the physical responses as well as the mental/emotional. I feel I have 'learned tools for life' especially with the breath work and tapping.
I thought that the course was fantastic and very interesting. It really helped me to see my anxiety in a different way and understand the way that I am feeling. I have had a lot of therapy with the NHS in the past, but this course made sense of things in a way that I haven't experienced before. It has also highlighted the lack of trauma informed care within the NHS. I can see now that the anxiety I experience is a normal response to the things that have happened to me, and that there are techniques that can help. I am using the EFT, fast tapping, and breathwork a lot and finding it to be really helpful. Having an understanding of my nervous system has helped me to understand and identify what's happening when I get overwhelmed or shut down. The suggestions for further reading and resources have been helpful.
 Trauma-informed Webinars & Workshops
Webinar & Workshop Details £69 per person
What we will be covering
What is trauma?
How trauma affects the brain
Symptoms and behaviours
Adverse Childhood Experiences
Attachment
Autonomic nervous system, Neuroception, the Vagus nerve and Polyvagal Theory
Re-traumatisation
Trauma and the memory
Supporting people living with trauma
Somatic approaches to trauma
Members of the public, professionals, service professionals, educational establishments and parents. For over 18s only.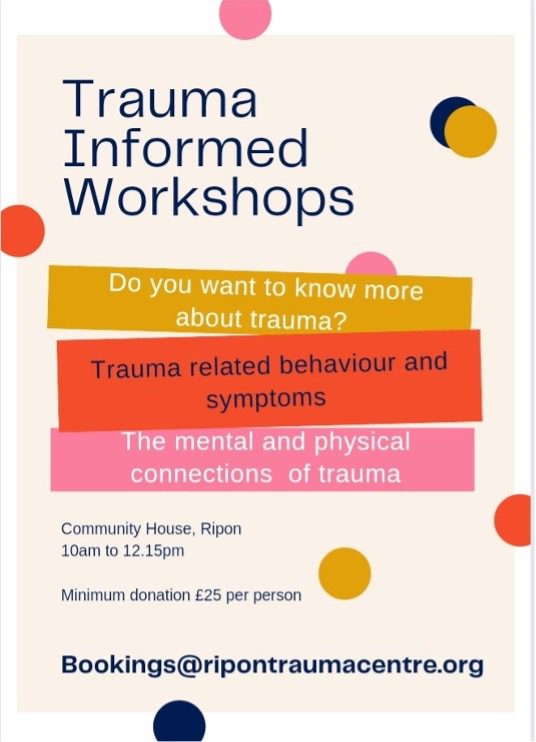 Accredited Psychological Trauma-informed Diploma
This course is face to face or is delivered online – please enquire for online dates.
Course Dates:
9.30AM – 4.00PM Zoom £399 per person.

One day course 8 hours

One case study (5 hours)
Reflection
15.5 minimum hours in total equating to 15 CPD points
Course Cost
£399 per person
Includes marking, feedback and certification
Bank transfer and Card payments accepted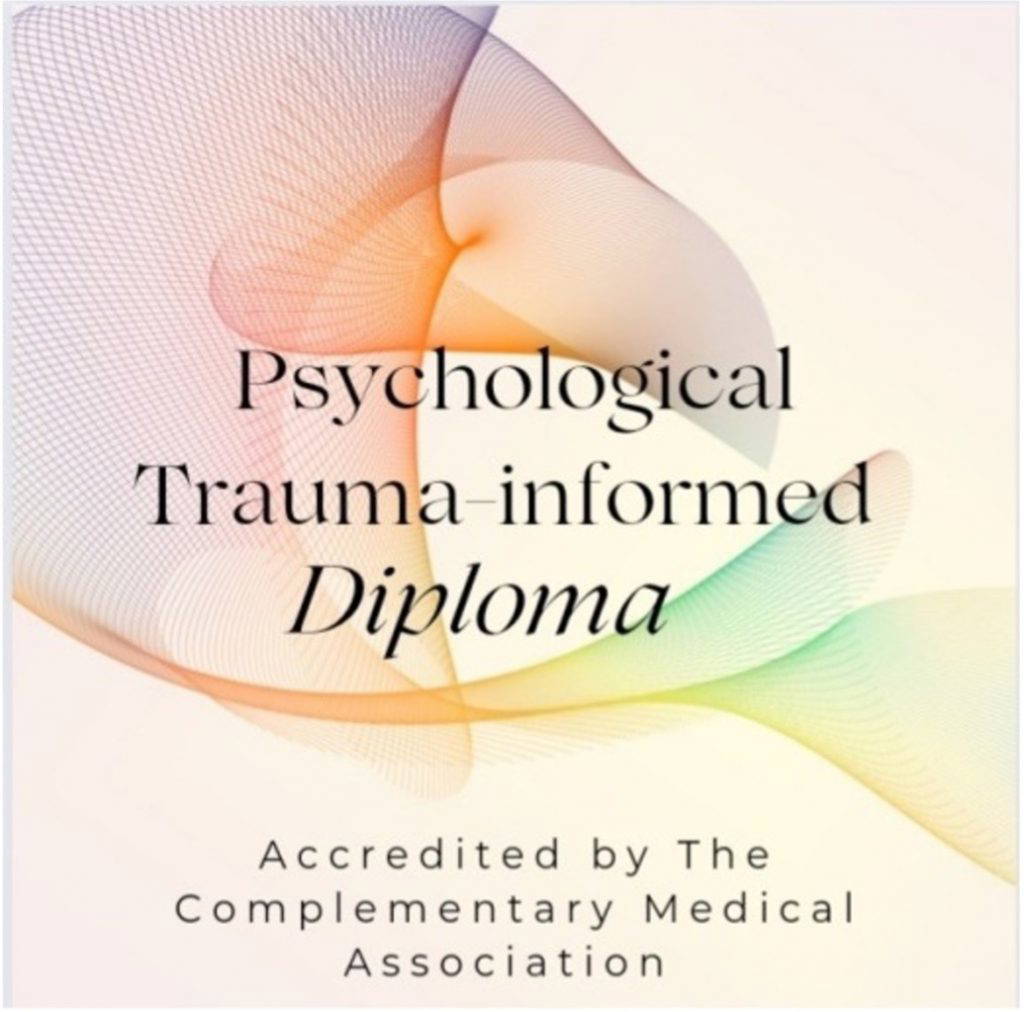 Pre-requisites to the course
This course is open to anyone who is supporting clients, with psychological trauma and works with adults and children.  We welcome staff from the services, educational settings, counsellors, complementary and holistic therapists etc. We would ask for confirmation of qualifications ideally a level 2 counselling diploma or holistic qualification. This is entirely at our discretion so please contact us if your job role is not included above. Please note this course is not for members of the public.
Case Study (5 hours in total)
We would like candidates to complete one case study in their own therapy/work space within three months to show competency. We can provide a suitable case study client – please ask.
Reflection (800 words)
 "This course looks absolutely superb and it is a very important course coming at precisely the right time"
Jayney Goddard,
President, The Complementary Medical Association
"Trauma is not what happens to you, it is what happens inside of you. It is the psychological wound you sustained, the meaning you made of it and it's cognitions about the self and the world. Trauma hardens you psychologically which interferes with your ability to grow and develop.  You react out of pain and fear without knowing it. Your whole life is regulated by fear and pain that you are trying to escape from in various ways. "
Dr. Gabor Mate
Module Titles and Content
What is trauma? – Explanation of psychological trauma and its long term effects
The language around mental health and trauma and NICE evidenced based treatment – Current NICE guidelines around treating psychological trauma
The parity of esteem in treating trauma – UK mental health statistics and trauma being one step further away
PTSD and complex PTSD – definitions
Memory – Implicit, explicit and how memory processing is affected by psychological trauma, the AIP model (adaptive information processing model)
The anatomy and physiology of trauma – covering the brain, neurobiology, HPA (hypothalamic-pituitary-adrenal) axis, Psychoneuroimmunology, the Nervous System, Vagus nerve, Polyvagal theory, neuroception, the endocrine system and the biology of loss and biochemistry of healing
Adverse Childhood Experiences (ACES) – definitions and information around the long term impact of ACES on psychological trauma
Attachment and boundaries – John Bowlby's Attachment, the first volume of his classic trilogy exploring the influence of parent-child relationships on personal development. The reversal of roles with a parent skews the child's relationship with the whole world and is a sign of not only pathology (sign or cause of disease) in the parent but also the cause of it in the child. It is a potent source of later psychological and physical illness because it predisposes us to stress. Historical trauma and blame.
Holistic and somatic approaches for supporting people living with trauma – avoiding re-traumatising clients
Psychological reversal – understanding 'stuck' clients and self-sabotage
Vicarious trauma – protecting yourself as a therapist
Integrative approaches for supporting people living with trauma – resources, stabilisation, self-regulation and co-regulation
Case study information and reflection
About the Author of our Courses and Workshops
Gail Donnan MA is the founder and CEO of The Trauma Centre Community Interest Company, she has twenty six years' experience in Integrative Health Care both within the corporate and therapy fields. She has been a registered college with The CMA for since 2016.
She is passionate about helping people heal with both a cognitive (mind) and somatic (body) approach.  She has interests in Polyvagal theory, the autonomic nervous system and memory. She is an Interdisciplinary Psychologist (Level 7 Masters Degree), Trauma-focused EMDR practitioner (Eye-movement de-sensitisation re-processing), holds qualifications in Advanced Cognitive Behavioural Therapy, The Rewind Technique, Mindfulness Based Stress Reduction, NLP (Neuro-linguistic programming), Meditation and EFT (Emotional Freedom Technique).
She is a qualified teacher with 14 years teaching experience, she is an assessor, Internal Quality Assessor and Safe Guarding Lead for vulnerable adults and children. She is a trauma-focused Therapist, Integrative Therapist, Inner Child Therapist, Reiki Master Teacher and author of two mental health books for adults and children.
 She has been a registered training school with The Complementary Medical Association since 2016 who accredit our diploma.  A large percentage of proceeds from our workshops and diploma goes back to The Trauma Centre.
She is an ambassador for Psychologies magazine and part of the writing team for Beauty Despite Cancer. She is a registered member of the National Council for Integrative Psychotherapists.